A vasectomy is a simple procedure that makes a man unable to father children. It's nearly 100% effective (99.85% to be exact). It takes about 15 minutes to perform in a urologist's office, and it's usually covered by health insurance. For patients who prefer anesthesia, vasectomy procedures will be completed at the Pasteur Plaza Surgery Center.
You've probably heard chilling or funny tales about vasectomies. They're fun to tell. But in reality, most men say that their vasectomy experience was quicker, easier, and more tolerable than they ever expected.
A vasectomy is meant to be permanent and should only be undergone with a full understanding of the procedure and after thoughtful consideration.

Ashton
"I had a 20 min vasectomy and here to tell you Dr. Hakim did a phenomenal job! From the consult to the procedure, it was an extremely pleasant visit.
The conversation that we had kept my mind off of the procedure and BAM! It was done.
If you are looking to get your boys snipped please do yourself a favor and visit Dr. Hakim and his amazing team!"
Vasectomy Procedure - What to Expect
A medical assistant will escort you to an exam room and collect some basic information from you. Then the urologist will meet with you (and your partner, if you'd like) to make sure you understand the permanence of the procedure and answer any lingering questions you may have.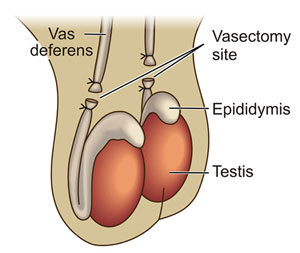 If you're confident with your decision to have a vasectomy, the urologist will step out to give you a moment to remove your pants and lay back on the exam table (no stirrups are needed) with a drape covering you. Then, the urologist or his assistant will clean the scrotum with an antibiotic soap. The doctor will numb the area with a tiny needle of medication injected into the scrotal skin. The anxiety men feel about this step is worse than the shot itself – trust us. It feels the same (most men say, it's easier) than a numbing injection before a dental procedure – briefly uncomfortable yes, like a pinch, and then it's over.
After the numbing medicine takes effect, you won't feel any pain during the remainder of the procedure, although you may feel pressure. The urologist will make an incision the size of a grain of rice in the scrotum and expose the vas deferens, which looks like cooked spaghetti. He'll snip the vas and return it to the scrotum. He'll close the incisions with a few dissolvable sutures and cover the area with gauze to protect it.
That's it! The doctor will review the recovery instructions with you and give you a cup for the semen sample that you'll need to provide in 12 weeks. Then he'll leave you alone to put on tight-fitting underwear or athletic supporter and your pants. You'll be back home before you know it.
Prefer to have your procedure done with full anesthesia at our surgery center? That's an option! The vasectomy with anesthesia package price is $2200 and includes the costs for the surgery center (including pathology), the physician, and the anesthesia.
Is a vasectomy reversible?
A vasectomy reversal isn't a myth. In fact, Urology San Antonio offers vasectomy reversals.  They can cost anywhere from $5,000 -$10,000 and there's no guarantee a reversal will be successful. You should make the decision to have a vasectomy knowing it's intended to be a permanent procedure.
Think carefully.
Before you commit to a vasectomy, ask yourself…
WHAT IF… my current relationship ends and I have a new partner who wants to have a child?
WHAT IF… one or more of my children pass away?
WHAT IF… we start making more money and are able to support a larger family?
If you're at peace with your answers, it's time to schedule your vasectomy! If you still have questions or concerns, you may choose to have a pre-vasectomy consultation (info below).
Pre-Vasectomy Consultation
Most insurance will cover a pre-vasectomy consultation. However, if you do not have coverage, and you or your physician determines it best to have the vasectomy on a different day from the consultation, there will be a $100 visit charge. The amount may be higher if your physician orders additional lab work or testing performed. Payment must be made at the time of the appointment. Appointments can be made by calling 210-582-5505.
If you know you're ready for a vasectomy, we offer patients the option of scheduling the consultation just prior to the procedure.
Vasectomy Cost
The cost of a vasectomy will vary depending on your insurance. Urology San Antonio performs many vasectomies for men without health insurance.
With Insurance: The majority of health insurances cover an in-office vasectomy. To find out if yours does, call the 800 number on your insurance card, or contact our insurance and billing department. (Be sure to provide your policy number and group ID.)
Without Insurance: If you don't have insurance, the vasectomy cost at Urology San Antonio is $900. That includes the vasectomy and the follow-up semen check.
$100 Deposit: Whether you have insurance or not, you'll need to pay a $100 deposit when you book the appointment. The deposit minimizes "no shows" and keeps appointments available for guys who are serious about having a vasectomy. After the procedure, the deposit will be applied toward your balance or refunded to you.
Vasectomy with Anesthesia: Most patients prefer the cost and speed of an in-office vasectomy. For patients who prefer anesthesia, vasectomy procedures will be completed at the Pasteur Plaza Surgery Center. The vasectomy with anesthesia package price is $2200 and includes the costs for the surgery center (including pathology), the physician, and the anesthesia.
Vasectomy Recovery Time
Most men schedule their vasectomy on a Thursday or a Friday afternoon. They recover over the weekend and go back to desk work on Monday. If you have a job that keeps you on your feet, plan to take 2 days off, followed by 3 days of light-duty.
You can resume sex after 3 days, but use protection because a vasectomy isn't effective immediately. It takes 3 months for the pipes to clear. When it's time, drop off a semen sample, and your doctor will call you with the results.
Frequently Asked Questions
18915 Meisner Drive
San Antonio, TX 78258
Northeast Methodist Plaza12709 Toepperwein, Ste. 206
San Antonio, TX 78233
Men's Health and Wellness
7909 Fredericksburg Rd.
Suite 227
San Antonio, TX 78229
3327 Research Plaza, Ste. 403
San Antonio, TX 78235
1303 McCullough Ave, Ste. 270
San Antonio, TX 78212