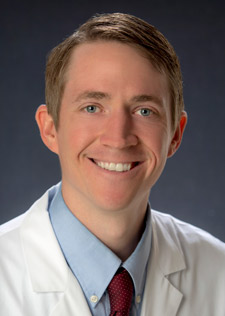 Patrick Cockerill, MD
Board-certified Urologist
Speaks: English
About Dr. Patrick Cockerill
A native of San Antonio, Dr. Patrick Cockerill joined Urology San Antonio after completing his urology residency at the Mayo Clinic.
"Working at the Mayo Clinic instills in you that the needs of the patient come first and that working for the patient is critical.  It's rewarding to see patients improve and meeting their healthcare goals."
Dr. Cockerill treats men's and women's general urologic health concerns and specializes in Prostate Cancer, Bladder Cancer, Kidney Cancer, Kidney Stones, BPH (Enlarged Prostate), and laparoscopic and robotic surgery.
Dr. Cockerill graduated from Central Catholic High School in San Antonio before attending the University of Texas at Austin where he received his medical degree.  He went on to complete his surgical and urology residency at the Mayo Clinic in Rochester, MN.
"I've always known San Antonio to be an exciting and vibrant community and am excited to be back."
When he's not helping patients, Dr. Cockerill enjoys spending time with his family and rooting for the Spurs and the Longhorns.
Northeast Methodist Plaza
12709 Toepperwein, Ste. 206
San Antonio, TX 78233

TR
"After years of Urology issues, I finally feel I've found the right place, and doctor to care for me.  Dr. Patrick Cockerill has given me options that may change my life.  I feel safe in knowing he's helping me make the correct call."

TR
"The staff is friendly and professional. Dr. Cockerill takes the time to talk with me and explain my options."