The Rezum treatment for BPH, or an enlarged prostate, is the first of its kind.  Using water vapor therapy, this minimally invasive procedure has shown to significantly reduce the symptoms of BPH.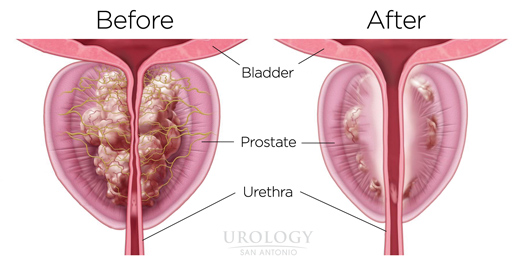 In late 2015, the FDA approved Rezum as a treatment for BPH. Urology San Antonio had the first doctor in the United States certified to perform Rezum therapy, and is currently one of only a few sites in the nation equipped treat BPH using Rezum.
For years, the primary options for treating BPH were through medications or surgery, making Rezum a new option for patients who are dissatisfied with their current choices for treating BPH.
How Rezūm Works

The Rezūm therapy is completed in a single visit; there is no need for ongoing therapy.
It works by delivering very small amounts of steam to the enlarged prostate.  This process damages the cells causing obstruction, thus reducing the overall size of the prostate and the symptoms associated with BPH such as:
A weak urine stream
Trouble starting the flow of urine
Starting and stopping again when urinating
Not emptying your bladder completely
Urinating more often, especially at night
Sudden urges to urinate
Leaking or dribbling after you urinate
Straining to urinate
Visit with your Urologist
Your doctor can help you decide if Rezūm is right for you.  A few tests must be done prior to treatment.  Schedule an appointment today.
Procedure Day
Treatment is a minimally invasive procedure conducted in-office that does not require general anesthesia.  Patients are able to drive themselves home and may return to regular activities within a few days.
Symptom Improvement
BPH symptoms may improve in as little as two weeks.
Frequently Asked Questions
Can any urologist perform Rezūm therapy for BPH?
Any urologist with Urology San Antonio can help determine if Rezūm is right for you and complete the tests prior to the procedure.  At this time, four of our doctors (listed above) have received special training to perform this procedure.
Does an enlarged prostate improve without treatment?
Early on, enlarged prostate symptoms may come and go, so taking a "wait and see" approach to mild symptoms is reasonable. Over the long-term, however, symptoms tend to get gradually worse.
Is the Rezūm therapy covered by insurance?
Rezūm therapy is covered by most insurances to treat BPH.
If the Rezūm therapy is new, how do I know it's safe?
The Rezūm therapy has undergone extensive clinical trials to evaluate the safety and efficacy of the treatment, and was approved by the FDA in late 2015.